Our Trainers
At Happy-Go-Lucky, our class instructors and helpful assistants are skilled trainers of dogs and people, teaching you positive, practical methods. In our two training rooms, we host 8-10 dogs per class, so there's lots of one-on-one attention. We encourage you to sit in on any of our classes (without your dog, of course) to see if a trainer's style is right for you – just give us a call to set up a time. Now, here's a bit about our trainers:
Lisa Plymale, CPDT-KA, Owner
Before starting Happy-Go-Lucky in 1999, Lisa trained at another positive-style training facility and worked with elementary school students as a sign language interpreter. She's been teaching a variety of classes and doing private lessons for more than 17 years now. Lisa continues her education in the field by regularly attending classes, herding and agility lessons, and seminars – not to mention submersing herself in any new dog book she can get her hands on. Her most influential authors include Temple Grandin, Ray and Lorna Coppinger, Jean Donaldson, Turid Rugaas, Patricia McConnell and Ian Dunbar. When talking about why she does it, Lisa says, "I really enjoy working with people and their dogs. To see them begin to work together with increased understanding and confidence is incredibly rewarding – not to mention a lot of fun!" Lisa has three dogs, seven sheep and three ducks for her dogs to herd, and a llama to protect them all.
Susan Fletcher, CPDT-KA
Susan's story begins with her hamster training at age 7. She started dog training at the curious age of 10, reading many books. After taking her first group dog training class in 1986, she began her apprenticeship and formal training in 1988. With us since the beginning, Susan teaches classes of all levels and offers private lessons to manage and lessen dog-to-dog aggression. She is also a Tellington Touch Practitioner (Level One). Susan's reason for being in this career is simple: "I love dogs. I want them to have a good life and be understood and appreciated by their people." Susan has added to her 20+ years of experience by attending several seminars and filling her shelves with breed and training books. She and her dogs also play flyball, and participate in competition obedience, weight pull and sledding.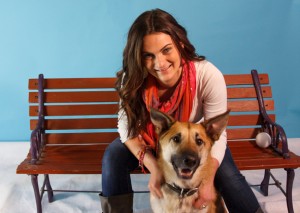 Jenna Kirby, CPDT-KA
Jenna stood out as a volunteer for the Oregon Humane Society, where she worked with the kids at their summer camps. When they suggested she'd make a great addition to our team, we snatched her up. That was in 2003, and Jenna has been with us ever since. She became a Certified Pet Dog Trainer in 2006 and teaches many of our classes, including Puppy Kindergarten, Beginning Obedience, Puppy Intermediate and Action & Distraction. She continues to work with the Oregon Humane Society as well. When asked why she joined the world of dog training, she says, "I never have been able to get away from dogs. I grew up always having multiple dogs of our own as well as foster dogs from the Oregon Humane Society. Being around dogs has always been a huge part of my life – and I plan to keep it that way." Jenna currently has a shepherd mix, a Chinook dog and a chihuahua mix.
Ayesha Guzali, CPDT-KA
Ayesha came here from London about eight years ago. While growing up in the UK, her family moved often, so she's had some amazing experiences living in big cities, on farms, in a small fishing village, at a horse riding center and even at a monkey sanctuary. She got her start instructing at an outdoor center, taking groups of people out sea kayaking in the summer. Wherever she has gone, dogs have always been involved in her life. Feeding stray dogs in Trinidad or befriending farm or reservation dogs. So now to have a career focused 100 percent on dogs is, as she says, "fantastic!" In her spare time, she loves taking classes with her ginger terrier, Chelsea, and agility lessons with her little terrier mix Frankie. She also has a senior cattle dog named Soya. Ayesha's favorite thing about teaching is "to see people and their dogs working together, building a connection and having fun in class."
Brittan Winthrop, CPDT-KA
Brittan first got involved in this field when she brought home her first sheepdog, Sweden, to help out with her horses. Her life soon changed when Sweden became the focus, and she found herself at Happy-Go-Lucky nearly every week taking all sorts of classes. She's now been training with us for almost 10 years, teaching Puppy, Beginning and Rally-O classes, which have been a big hit around here. Outside of her work with us, she also does volunteer work with guide dogs and provides dogsitting services (through Tri-Able Shetland Sheepdogs). Brittan loves working with animals and their owners, applying encouraging methods to make sure everyone is having a fun time. As for hobbies with her own dogs, you can find Brittan in the Agility, Conformation, Rally-O and Obedience ring. She also loves camping, trail riding with the horses, rafting and taking weekly classes.
Cam Barrett, CPDT-KA
Growing up on the Puget Sound, Cam developed a love for all the animals and terrain the Northwest has to offer. Beginning with working at a dog daycare in Bellingham, Washington, he has gained more than a decade of experience working with a variety of dogs. While continuing education along the way, Cam began working for Happy-Go-Lucky in 2010. He has honed his training skills to the path of helping owners gain more of their dog's perspective, enriching both their communication and relationship. When not at Happy-Go-Lucky, Cam can be seen around town on his skateboard with his trusty cattle dog mix, Albert, at his side. Together, they consider every day they are out an adventure.
*Click here for more information about what it means to be designated "CPDT-KA".